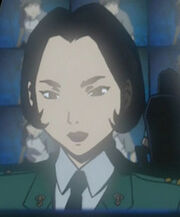 (三輪 忍 Miwa Shinobu)
Japanese seiyū: Yu Asakawa
English voice actor: Heather Bryson LeMaster First appearance: Episode 1
Shinobu Miwa appears to be third in command in the Tokyo Bay base control center. She is shown working with Kuki in the control center, and holding down the fort with other subordinates while Kuki and Maya are away. At the end of the series, Miwa briefly expresses doubt over the Mu agenda before finally becoming bound to the Dolem Allegretto.
In other versions
Edit
In the movie, Miwa appears briefly in the base.
In the manga, Maya is shown to have a female second in command, but this character is not named.
Ad blocker interference detected!
Wikia is a free-to-use site that makes money from advertising. We have a modified experience for viewers using ad blockers

Wikia is not accessible if you've made further modifications. Remove the custom ad blocker rule(s) and the page will load as expected.